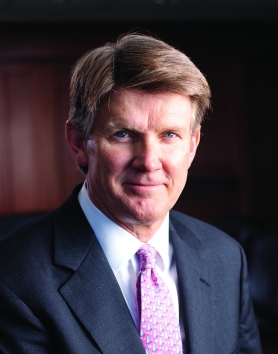 At the UNT Health Science Center (UNTHSC), our five core values­ – serve others first, integrity, respect, collaboration, be visionary – are more than just words on a poster or website. They're our way to live, to teach, to do business and to lead.
Values drive a set of behaviors intended to help each of us - students, staff and faculty - live out our purpose to transform lives in order to improve the lives of others. At our 33-acre campus in the heart of Fort Worth's Cultural District, these values also serve to keep us focused on our mission to create solutions for a healthier community.
A number of new initiatives in the last year show the strength of our commitment to education, discovery and clinical care for Fort Worth and beyond. They include:
The creation of a new MD school with Texas Christian University that will complement our Texas College of Osteopathic Medicine and bolster our efforts at inter-professionalism, a team-based model of education and patient care that promises better treatment and outcomes. The school is scheduled to open in 2019 and will allow UNTHSC to offer one of the most comprehensive health care educations on a single campus anywhere in the United States.
The development of an Institute for Patient Safety, thanks to a $4 million appropriation from the Texas Legislature. We want the Health Science Center to lead the way in eliminating preventable medical errors that cost 440,000 lives a year nationally.
Approximately $80 million in funding from the Texas Legislature to build an interprofessional research building that will include 150,000 square feet of research and teaching labs, classroom space, study rooms, multimedia learning areas and offices.
Our students always have been at the heart of what we do. Enrollment increased across our five schools and colleges to a record high of 2,382 in Fall 2015. We graduate more primary care physicians than any other medical school in Texas and the second-highest percentage nationally among medical schools ranked by U.S. News & World Report. Our physician assistant studies program ranks among the nation's best and our UNT System College of Pharmacy (SCP) is growing rapidly as we prepare to graduate our inaugural class.
We made significant strides in research, with $42.8 million in awards. A remarkable team of UNTHSC researchers was responsible for breakthroughs in forensic genetics, sleep apnea, hypertension, cognitive disorders, vision, hormones, and aging. It's work that's advancing the pace of discovery, and we're immensely proud of it.
You've chosen to continue your education at a remarkable institution in the midst of transformative change. As a proud alum and president, I welcome you to UNT Health Science Center.
Sincerely,

Michael R. Williams, DO, MD, MBA
President, University of North Texas Health Science Center
TCOM '81