2019-2020 Catalog
[ARCHIVED CATALOG]
2019-2020 Catalog
---
Welcome to the UNT Health Science Center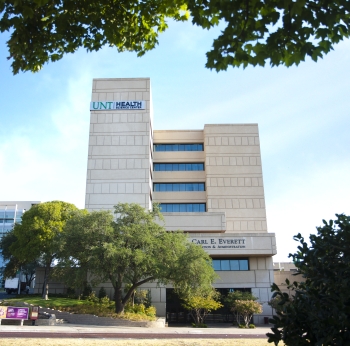 This catalog is an official bulletin of the UNT Health Science Center (UNTHSC) and is intended to provide general information. It contains policies, regulations, procedures and fees in effect as of July 1, 2019. The provisions of this catalog do not constitute a contract, express or implied, between any applicant, student or faculty member and UNTHSC.
UNTHSC reserves the right to make changes at any time to reflect current University of North Texas System Board of Regents policies, administrative regulations and procedures, amendments by state law and fee changes. Information provided by this catalog is subject to change without notice and does not constitute a contract between UNTHSC and a student or an applicant for admission. The institution is not responsible for any misrepresentation or provisions that might arise as a result of errors in preparation.
Students are responsible for observing the regulations included in the catalog and therefore, they are urged to read this catalog carefully. This catalog does not contain all institutional rules, regulations and policies for which a student is responsible. Students should also consult the UNTHSC Policy website (https://app.unthsc.edu/policies/Home/ByChapter) and the official UNTHSC website (www.unthsc.edu). UNTHSC reserves the right to withdraw a student for cause at any time.
The University of North Texas System and its component institutions are committed to equal opportunity and comply with all applicable federal and state laws regarding nondiscrimination and affirmative action. The University of North Texas System and its component institutions do not discriminate on the basis of race, color, sex, sexual orientation, gender identity, gender expression, religion, national origin, age, disability, genetic information, or veteran status in its application and admission processes, educational programs and activities, and employment practices. 
Any persons with concerns or questions, and those seeking to file a complaint, should contact the UNT System Administration Office of Equity, Diversity, and Inclusion at 1-855-878-7650.
UNT Health Science Center
3500 Camp Bowie Blvd.
Fort Worth, Texas 76107
817-735-2000
www.unthsc.edu
---